Jane M McManus
---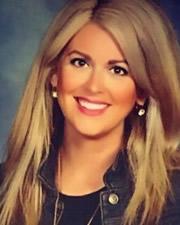 Director, KU Virtual Learning Network and Graduate Faculty, School of Education
School of Education and Human Sciences
Contact Info
Joseph R. Pearson Hall, room #325
University of Kansas
1122 W. Campus Rd.
Lawrence, KS 66045-3101
---
Biography
—
Dr. Jane M. McManus, Director, KU Virtual Learning Network, and Graduate Faculty, Curriculum & Teaching, joined the University of Kansas faculty in 2015. Dr. McManus earned her doctorate in Curriculum and Instruction at the University of Kansas. She earned her master's degree in English Education from Rockhurst University, where she also earned her B.A. in Psychology and Journalism.
Prior to earning her doctorate, Dr. McManus taught secondary English in traditional and online environments for ten years. She helped launch a new online school and taught live, synchronous classes in a virtual environment for seven years and served as English Department Chair. She was also chosen to be a National Subject Matter Expert and designed and created new curricula for national online courses aligning with state and national standards. In addition, Dr. McManus was selected as a National Professional Development Consultant for online schools. In this role, she designed and led interactive sessions for teachers and administrators relating to effective online instructional strategies, curriculum design, cross-curricular technology integration, and digital classrooms. Additionally, Dr. McManus has experience in healthcare technology training and software instruction.
Dr. McManus designed and created the new KU Virtual Learning Network (KU VLN) in 2017 and is leading this innovative initiative for the KU School of Education. Dr. McManus has also been published in English Journal and has extensive experience presenting at national and local conferences to university faculty, administrators, and teacher leaders and facilitating seminars on online engagement and synchronous and asynchronous virtual delivery. Her research interests include virtual learning communities, synchronous and asynchronous pedagogy in the 21st century, digital literacies, virtual collaboration, teacher preparation and technology, and networking in the cloud.