M'Balia Thomas
---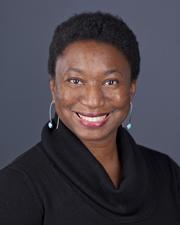 Contact Info
Joseph R. Pearson Hall, room #308

---
Biography
—
M'Balia B. Thomas is an Associate Professor of TESOL. She is a Critical Applied Linguist with a focus on language and ideology. Her work adopts theories and practices from the disciplines of Education, TESOL, and Linguistics to push boundaries in the methodological approaches used to 1) educate pre-service and in-service teachers about language and language learners and 2) conduct research in teacher education.
Underlying this approach to K-12 TESOL teacher education is a commitment to mindfully (Langer, 2016) fostering an anti-oppressive pedagogy (Kumashiro, 2000) and supporting the "everyday creativity" (Carter 2015) inherent within teaching and learning. A mindful approach to pedagogy holds the potential to open up space within the classroom and academia for deeper learning, teacher and student self-efficacy, and increased sustainability in the field for teachers and teacher educators.
As a Critical Applied Linguist, Dr. Thomas has a particular interest in language-based qualitative methods—discourse, conversation, and narrative analyses; rhetorical-stylistic analysis; thematic analysis. She uses these methods to address the testimonial injustices (Fricker, 2007) committed against social actors in particular individuals considered nonnative and nonstandard speakers of American English.
Dr. Thomas is active in the American Association for Applied Linguistics (AAAL), the Self-Study SIG of the American Educational Research Association (AERA), and the Poetics & Linguistics Association (PALA).
Education
—
Ph.D. in Interdisciplinary Program in Second Language Acquisition and Teaching. Major: Language Use, Minor: Linguistic Analysis, University of Arizona, 2014, Tucson, AZ
M.A. in Advertising, Universidad Pontificia Comillas de Madrid, 1996, Madrid, Spain
A.B., Sociology, with Honors, Stanford University, 1993, Palo Alto, CA
Research
—
Language & Ideology, "Non-Native" and "Non-Standard" Englishes, Everyday Creativity, Mindfulness
Teaching
—
Courses:
C&T 896 The Internationalized Curriculum
C&T 818 Language, Discourse and Ideology
C&T 817 Contact, Change & American English
C&T 816 Culturally Responsive Pedagogy
C&T 491/825 TESOL Practicum / Advanced TESOL Practicum
C&T 331 Instructional Approaches to TESOL in Middle/Secondary
Selected Publications
—
Thomas, M. (Forthcoming 2022). The ethical effects of voice-over narration on a victim testimonial: A text-world analysis of 'The Bed Intruder' meme. In J. Douthwaite & U. Tabbert (Eds.) The Linguistics of Crime. Cambridge University Press. (Invited). https://www.cambridge.org/core/books/linguistics-of-crime/5893B645456EA4302EB3C11C1FCC08DD
Thomas, M. (2022). Dialogue as Black contemplative practice. Special Issue: "Transcendent wisdom and transformative action: Reflections from Black contemplatives", Journal of Contemplative Inquiry.https://journal.contemplativeinquiry.org/index.php/joci/article/view/331
Thomas, M. (2021b). A testimonial injustice 'out here in the projects' – Misrecognising victimhood in the bed intruder meme. Journal of Language and Discrimination, 5(2), 56-79. https://doi.org/10.1558/jld.18164
Thomas, M. (2021a). The everyday creativity of authentic classroom assessments. LEARNing Landscapes Journal, 14(1): 393-407. https://doi.org/10.36510/learnland.v14i1.1039  
Thomas, M., & Carvajal-Regidor, M.* (2021). From "slow" to "being 'lazy' and slowing down" and the impact on student learning. Teaching and Learning Inquiry, 9(2). https://doi.org/10.20343/teachlearninqu.9.2.12
Thomas, M. (2020b). Virtual Teaching in the Time of COVID-19: Rethinking our WEIRD Pedagogical Commitments to Teacher Education [Journal Articles]. Frontiers Journal. Published. https://doi.org/10.3389/feduc.2020.595574
Thomas, M. (2020a). Rendering the Untellable, Tellable: The Cooperative Work of Face in Conversational Storytelling [Journal Articles]. Narrative Inquiry, 30(2), 364–380. https://doi.org/10.1075/ni.18055.tho
Thomas, M., & Carvajal, M. (2020). Culturally Responsive Pedagogy in TESOL. [Book Chapters]. In In P. Vinogradova & J. Shin (eds). Contemporary Foundations for Teaching English as an Additional Language: Pedagogical Approaches and Classroom Applications (pp. 91–99). Routledge. https://www.routledge.com/Contemporary-Foundations-for-Teaching-English…
Thomas, M. (2019). "I solemnly swear that I am up to no good": Mapping my way through TESOL teacher education [Journal Articles]. Studying Teacher Education. Published. https://doi.org/10.1080/17425964.2019.1580026
Thomas, M., Russell, A., & Warren, H. (2018). The Good, The Bad, and The Ugly of Pedagogy in Harry Potter: An Inquiry into the Personal Practical Knowledge of Remus Lupin, Rubeus Hagrid, & Severus Snape [Journal Articles]. The Clearing House. Published. https://www.tandfonline.com/doi/full/10.1080/00098655.2018.1483152
Thomas, M. (2018c). Trauma, Harry Potter, and the Demented World of Academia [Journal Articles]. Journal of Educational Thought (JET), 51(2), 184–203. https://doi.org/10.11575/jet.v51i2.58452
Thomas, M. (2018b). The Girl Who Lived: Exploring the Liminal Spaces of Self-Study Research with Textual Critical Partners [Conference Proceedings]. In Pushing Boundaries and Crossing Borders: Self-Study as a Means for Researching Pedagogy. (pp. 327–333).
Thomas, M. (2018a). Harry Potter and the Border Crossing Analogy: An exploration of the instructional use of analogy in a TESOL methods course [Journal Articles]. The Teacher Educator, 53(3), 277–292. https://www.tandfonline.com/toc/utte20/53/3
Selected Presentations
—
Thomas, M. (3/2022). Navigating disciplinary boundaries in TESOL teacher education: An unexpected lesson in culturally responsive teaching [Invited Panel]. TESOL 2022: Academic Intersection. Problematizing the Problem: Approaches to a Multicultural and Multilingual classroom. TESOL International 2022 Annual Conference—Pittsburg & Virtual.
Thomas, M. & Wang, J. A.* (10/22/21). Paradigm shift in ELT education: Forging an educational framework for post-pandemic world [Paper Presentation]. MidTESOL Annual Conference—Virtual.
Thomas, M. (9/2021). Tales from the wizarding world: Bringing Harry Potter universe into the classroom. [Professional Development Webinar Series]. Ziya Gökalp Faculty of Education, Dicle University. https://sites.google.com/view/viplearningnetwork/webinars/webinar-1
Thomas, M. & Wang, J. A.* (6/2021). The slippery slope between advising, collaboration, and critical friendship as one aspect of thinking about our methodology [Workshop]. Invisible College for Research on Teaching and Teacher Education—Virtual.
Thomas, M. (2/2021). The Secret, Sacred, & Cover Stories of Albus Dumbledore. Southwest Popular and American Culture Association (SWPACA)—Virtual.
Thomas, M. (2/2020). Embracing the Humanities in the field of Education. School of Education Research Conference. Lawrence, KS.
Thomas, M., Carneiro, R., & Quirin, A. (8/31/2019). The Great Dumbledore Debate: A Corpus-Stylistic Inquiry into the Epistemic Repertoire of Albus Dumbledore. Poetics and Linguistics Association. University of Liverpool, Liverpool, UK
Thomas, M. (4/2019). The whys and wherefores of a narrative inquiry of a textual character [Paper Presentation]. Narrative Inquiry Special Interest Group. American Educational Research Association (AERA) Annual Conference, Toronto.
Thomas, M., & Carvajal-Regidor, M. (10/31/2018). "Being 'Lazy' and Slowing Down" in an Evening Graduate Teacher Education Course". International Society for the Scholarship of Teaching and Learning. Bergen, Norway. https://issotl.com/issotl-2018
Thomas, M. (7/2018). The girl who lived: Exploring the liminal spaces of self-study research with textual critical partners [Paper Presentation]. Castle Conference—12. United Kingdom.
Grants & Other Funded Activity
—
Post-Civil War Linguistic Passing and other Black Literacy Practices. (5/2022-5/2023). A Black Book Interactive Project IV (BBIP-IV): Digital Publishing (History of Black Writing Project), University of Kansas. BBIP has been funded by the University of Kansas, the National Endowment for the Humanities (NEH), the American Council of Learned Societies (ACLS) and the Andrew Mellon Foundation. Status: Funded. https://bbip.ku.edu/m%E2%80%99balia-thomas
Mindfulness as Pedagogy and Anti-Oppressive Stance in Teacher Education. SoEHS General Research Fund Grant. $6500. This research is also funded through a generous contribution from the P. Markham TESOL Fund ($1500). (7/1/2022-6/30/2023). State of Kansas. Status: Funded
The Dumbledore Corpus. 2330750 099. KU School of Education. $6949.00. (5/15/2019 - 8/31/2020). State of Kansas. Status: Funded
The Greater Good: Engaging with K-12 Content-Based TESOL Methods through the Harry Potter Wizarding World. $5121.50. (7/1/2017 - 6/30/2018). State of Kansas. Status: Funded
Internationalizing Higher Education for International Student "Success": A study of Metaphor in Short Story Narratives of International Students at a Midwest University. $6535.04. Submitted 2/1/2016 (5/15/2016 - 8/31/2017). State of Kansas. Status: Funded
Ethnographic Study of Instruction and Assessment within the Citizenship Education Program of a local Religious-based Organization in Kansas City. $7930.60. Submitted 7/6/2015 (9/1/2015 - 4/30/2017). State of Kansas. Status: Funded
Transgressive Classroom Talk and the Pursuit of a Dialogic Stance in the English to Speakers of Other Languages (ESOL) Practicum Observation. School of Education. Submitted 1/1/2015 (5/15/2015 - 12/31/2015). State of Kansas. Status: Funded