M'Balia Thomas
---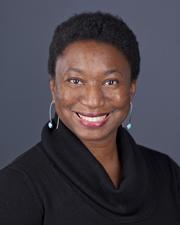 School of Education and Human Sciences
Contact Info
Joseph R. Pearson Hall, room #308
University of Kansas
1122 West Campus Rd
Lawrence, KS 66045
---
Biography
—
M'Balia B. Thomas, Assistant Professor of TESOL, is a Critical Applied Linguist housed within a Department of Curriculum & Teaching where she specialize in Teaching English to Speakers of Other Languages (TESOL). While her teaching duties lie in TESOL, her research examines teaching, learning, and language use broadly.

As a Critical Applied Linguist, Dr. Thomas draws upon language-based qualitative methods (discourse, conversation, and narrative analyses; rhetorical-stylistic analysis; thematic analysis) to address the testimonial injustices (Fricker, 2007) committed against social actors in particular individuals considered nonnative and nonstandard speakers of American English.

Dr. Thomas is active in the Self-Study SIG of the American Educational Research Association (AERA), the American Association for Applied Linguistics (AAAL), and the Poetics & Linguistics Association (PALA).
Education
—
Ph.D. in Interdisciplinary Program in Second Language Acquisition and Teaching. Major: Language Use, Minor: Linguistic Analysis, University of Arizona, 2014, Tucson, AZ
M.A. in Advertising, Universidad Pontificia Comillas de Madrid, 1996, Madrid, Spain
Other in Sociology, with Honors, Stanford University, 1993, Palo Alto, CA
Research
—
Critical Applied Linguistics, Everyday Creativity, Harry Potter Studies
Teaching
—
Courses:
C&T 896 The Internationalized Curriculum
C&T 818 Language, Discourse and Ideology
C&T 817 Contact, Change & American English
C&T 816 Culturally Responsive Pedagogy
C&T 491/825 TESOL Practicum / Advanced TESOL Practicum
C&T 331 Instructional Approaches to TESOL in Middle/Secondary
Selected Publications
—
Thomas, M., & Carvajal-Regidor, M. (2021). From "slow" to "being 'lazy' and slowing down" and the impact on student learning. [Journal Articles]. Teaching and Learning Inquiry. Accepted/In Press.
Thomas, M. (2021). The everyday creativity of authentic classroom assessments. [Journal Articles]. LEARNing Landscapes Journal. Accepted/In Press.
Thomas, M. (2020). Virtual Teaching in the Time of COVID-19: Rethinking our WEIRD Pedagogical Commitments to Teacher Education [Journal Articles].
Frontiers Journal
. Published.
https://doi.org/10.3389/feduc.2020.595574
Thomas, M. (2020). Rendering the Untellable, Tellable: The Cooperative Work of Face in Conversational Storytelling [Journal Articles].
Narrative Inquiry
,
30
(2), 364–380.
https://doi.org/10.1075/ni.18055.tho
Thomas, M. (2018). The Girl Who Lived: Exploring the Liminal Spaces of Self-Study Research with Textual Critical Partners [Conference Proceedings]. In Pushing Boundaries and Crossing Borders: Self-Study as a Means for Researching Pedagogy. (pp. 327–333).
Thomas, M. (2018). Harry Potter and the Border Crossing Analogy: An exploration of the instructional use of analogy in a TESOL methods course [Journal Articles].
The Teacher Educator
,
53
(3), 277–292.
https://www.tandfonline.com/toc/utte20/53/3
Selected Presentations
—
Thomas, M. (2/1/2021 - 2/28/2021). The Secret, Sacred, & Cover Stories of Albus Dumbledore. Southwest Popular and American Culture Association (SWPACA). Virtual
Thomas, M. (2/1/2020 - 2/28/2020). Embracing the Humanities in the field of Education. School of Education Research Conference. Lawrence
Thomas, M., Carneiro, R., & Quirin, A. (8/31/2019). The Great Dumbledore Debate: A Corpus-Stylistic Inquiry into the Epistemic Repertoire of Albus Dumbledore. Poetics and Linguistics Association. University of Liverpool, Liverpool, UK
Thomas, M., & Carvajal-Regidor, M. (10/31/2018). "Being 'Lazy' and Slowing Down" in an Evening Graduate Teacher Education Course".
International Society for the Scholarship of Teaching and Learning
. Bergen, Norway.
https://www.issotl.com/issotl-2018-conference
Thomas, M. (5/31/2018). Popular culture as a vehicle to shared, prior knowledge in an undergraduate teacher education course. The Center for Teaching Excellence Teaching Conference. Lawrence, KS
Thomas, M., & Fox, M. E. (9/29/2017). "Teaching TESOL Methods through the Wizarding World of Harry Potter". MidTESOL Conference. Kansas City, MO
Thomas, M. (7/31/2017). "Space Invasion: A Text World Appraoch to Exploring Language, Race and Space in 'Bed Intruder'". Special Interest Panel: African and Diasporic Literatures. Poetics and Linguistics Association (PALA). West Chester, PA
Thomas, M. (7/29/2016). "Victimization, signification and misrecognition in the deviantly curious case of internet sensation Antoine Dodson". Poetics & Linguistics Society (PALA). Cagliari, Sardinia, Itlaly
Grants & Other Funded Activity
—
The Dumbledore Corpus. 2330750 099. KU School of Education. $6949.00. Submitted 1/15/2019 (5/15/2019 - 8/31/2020). University (KU or KUMC). Status: Funded
The Greater Good: Engaging with K-12 Content-Based TESOL Methods through the Harry Potter Wizarding World.. $5121.50. (7/1/2017 - 6/30/2018). State of Kansas. Status: Funded
Internationalizing Higher Education for International Student "Success": A study of Metaphor in Short Story Narratives of International Students at a midwest University. $6535.04. Submitted 2/1/2016 (5/15/2016 - 8/31/2017). Not-for-Profit (not Foundation). Status: Funded
Ethnographic Study of Instruction and Assessment within the Citizenship Education Program of a local Religious-based Organization in Kansas City.. $7930.60. Submitted 7/6/2015 (9/1/2015 - 4/30/2017). Thomas, M., Darban, B., & Tonnies, K. (2016, January). "100 Questions & the Quest for Citizenship Ethnographic Data Collection in a Citizenship Education Program in Northeast Kansas". School of Education Research Conference. University of Kansas. Paper Presentation. Thomas, M. Forbush, Duff, Doll. (2017, Sept.). Citizenship Education as Content-Based Instruction (poster presentation). Funding: NFGRF. September 29-30, MidTESOL Conference, Kansas City, MO. Poster Presentation. Krings, M. (01/18/2017). KU researcher, students working with KC-area charities to educate new citizens. KU Today,
http://news.ku.edu/2016/12/13/ku-researcher-students-working-kansas-cit…
Chair, MA Project. Kat Toonies. GRA, Behnaz C&T 825 Specialized Practicum Debby Adams. State of Kansas. Status: Funded
Transgressive Classroom Talk and the Pursuit of a Dialogic Stance in the English to Speakers of Other Languages (ESOL) Practicum Observation. School of Education. Submitted 1/1/2015 (5/15/2015 - 12/31/2015). Thomas, M. (2016). A Dialogic Approach to Supervision in the Practicum ATE-K The Advocate. ATE-K, 23(2).. University (KU or KUMC). Status: Funded