Karen Ann Jorgensen
---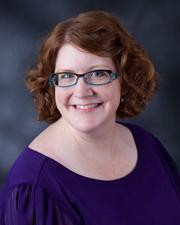 Contact Info
Joseph R. Pearson Hall, room #314

---
Biography
—
Karen A. Jorgensen joined the KU faculty in August, 2005. She earned her B.A. in Elementary Education and Scandinavian Studies from Concordia College in Moorhead, MN. Karen's master's work was completed at Høgskolen i Hamar (Norway) in the areas of Norwegian linguistics, literature and language. Her Ph.D. in the dual program areas of literacy education and second languages and cultures education was conferred by the University of Minnesota.
Karen Specializes in literacy and TESOL.
Research
—
Karen's research interests include biliteracy development in early childhood through adult populations, pre- and in-service teacher education, supporting striving readers in grades 5-adult, and the integration of children's/young adult literature in all the previous contexts. As a licensed elementary teacher, Karen's work since beginning at KU includes the creation and implementation of Early Reading First work with bilingual early childhood learners, a module to support mainstream teachers responsible for English learners (ELs) as part of Reading First, and the content and curriculum for middle /high school learners as part of the Kansas Migrant and English Learner Academy (KMEA). Karen's work with pre-service teachers and content area literacy combined with her work in area elementary and middle schools. Additionally, Karen has facilitated the Professional Development Schools (PDS) research as liaison between the School of Education and Liberty Memorial Central Middle School in Lawrence.
Karen has presented research presentations at the Literacy Research Association (formerly National Reading Conference), the International Reading Association, National Association for Bilingual Education, and has been the invited speaker at several state conferences and school/district professional development sessions. Her research has been published in books, Research in the Teaching of English (RTE), and other periodicals. She strives to integrate research and practice through her participation in many School of Education and community projects. Karen is a board member of Adventures in Imagination – a collaborative effort among Lawrence Public Schools, the Lied Center, U.S. Bank, and the School of Education.
Awards & Honors
—
Meredith Geiger-Gould Teaching Award
2016