Min-Young Kim
---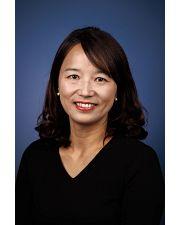 Contact Info
Joseph R. Pearson Hall, room #310
1122 West Campus Road
Lawrence, KS 66045-3101
---
Biography
—
Min-Young Kim is an Assistant Professor of Literacy Education in the Department of Curriculum and Teaching at the University of Kansas. Dr. Kim received her Ph.D. in Language, Education, and Society from The Ohio State University. She has a background in literacy education, teacher education, and discourse analysis, with special interests in argumentative and dialogic practices. Her research interests also include the translanguaging and transnational pedagogical practices of teachers from historically marginalized communities. Her scholarly work has appeared in publications such as Research in the Teaching of English, Learning, Culture, and Social Interaction, Reading & Writing, and English Journal. She served as a conference co-chair of the Korean-American Educational Researchers Association (KAERA) and is currently holding the secretary/treasurer position in the Language and Social Processes SIG of the American Educational Research Association (AERA).
Education
—
Ph.D., The Ohio State University, Columbus, OH
M.A., Seoul National University, Seoul, Korea
B.A., Seoul National University, Seoul, Korea
Research
—
Research Interests
Adolescent Literacies
English Language Arts
Discourse Analysis
Argumentation
Dialogic Pedagogy
Languaging and Translanguaging Practices
Teaching
—
C&T 448: Reading and Writing Across the Curriculum
Selected Publications
—
Kim, M.-Y., Beach, R., & Bloome, D. (2022). Reconceptualizing reflection as languaging practices for writing within unfolding social contexts in classrooms. In Hodges, T. (Ed.), Handbook of Research on Teacher Practices for Diverse Writing Instruction (pp. 163-184). IGI Global.
Kim, M.-Y., & Bloome, D. (2021). When thinking becomes a topic of classroom conversations: Languaging thinking practices in a high school English classroom. Research in the Teaching of English. 56(2), 177-199.
Shanahan, E., & Kim, M.-Y. (2021). Looking inward and outward: Fostering introspective argumentation. English Journal, 110(3), 100-107.
Cho, B.-Y., Woodward, L., & Kim, M.-Y. (2021). Engaging adolescents with multiple texts in literacy instruction. In K. Hinchman & H. Sheridan-Thomas (Eds.), Best Practices in Adolescent Literacy Instruction (3rd ed.). Guildford.
Kim, M.-Y., & Wilkinson, I. A. G. (2019). What is dialogic teaching? Constructing, deconstructing, and reconstructing a pedagogy of classroom talk. Learning, Culture and Social Interaction, 21, 70-86.