Nicole Babalola
---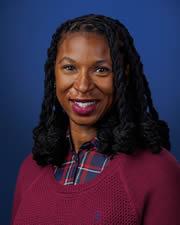 Associate Teaching Professor
Contact Info
Joseph R. Pearson Hall, room #331

---
Biography
—
Nicole S. Babalola, Associate Professor of Teaching, joined the Department of Curriculum and Teaching in 2013. Previously she worked as an Educational Technology Specialist in online learning at Ottawa University and an early childhood teacher in a public charter school. Babalola earned her Ph.D. from the University of Kansas, her M.S. from the University of Houston Clear Lake, and B.B.A. from Southern Methodist University.
Education
—
Ph.D. in Curriculum and Instruction, University of Kansas
M.S. in Instructional Technology, University of Houston Clear Lake
B.A. in Management Information Systems, Southern Methodist University
Research
—
Research interest:
Technology in early childhood
Montessori education
Professional Development Schools (PDS)
Pre-service teachers education
Technology for instructional purposes
Diversity, Equity, and Inclusion
Service Learning in Professional Development Schools (PDS)
Nicole has presented her research at the Society of Information Technology and Teacher Education (SITE), International Conference on Urban Education (ICUE), and Association for the Advancement of Computing in Education (AACE). She was a board member of Hilltop Early Childhood Center.
Teaching
—
Teaching interest:
Technology
Instructional Strategies
Teaching Portfolio
Diversity, Equity, and Inclusion
Awards & Honors
—
Global Learn and Innovate Learning Summit on Educational Media and Teacher Best Paper Award 2014, Bangkok, Thailand
Service
—
Nicole is the Director of the Professional Development Schools Alliance as well as the Director of Student Teaching and Internship. She is also the liaison between the School of Education and Human Sciences and fourteen K-12 public schools.